KU Tampa Surgical Technology Students Get Rare Opportunity to Assist in Heart Transplant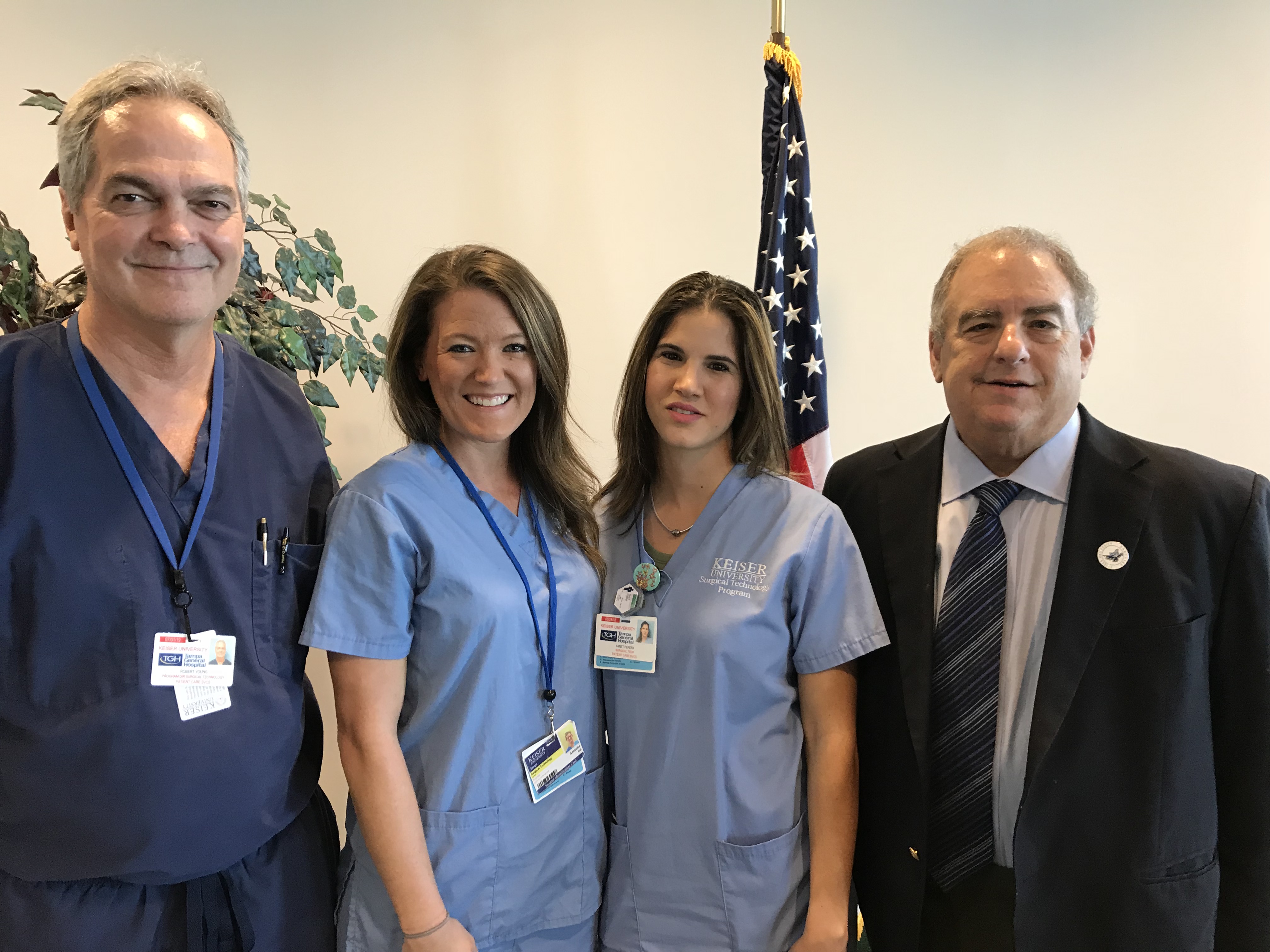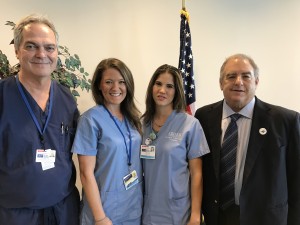 It was another busy day of surgery at Tampa General Hospital in Tampa, FL. Except on this particular day a donor heart was delivered to the transplant room where Keiser University Clinical student Yanet Perera, (in just her 10th week of a 16-week surgical clinical rotation) waited with other surgical technologists to assist the highly trained and experienced surgeons from cardiothoracics that would be performing a unique life-saving surgery – a heart transplant.
The donor heart had just been taken next door in the Procurement room where another Keiser University Clinical student, Amanda Hill (also in her 10th week), along with other surgical technologists, was assisting two other surgeons. In addition to the heart, the pancreas and kidneys that would be retained by TGH, several other organs were procured. Representaties from several other hospitals and organizations were standing by to take those organs for patients on waiting lists. Florida Hospital in Tampa had a procurement team to take possession of the liver. Mayo Clinic from Jacksonville, FL, had a procurement team to take the lungs. The LifeLink team from Tampa received a section of lumbar spine.
Amanda performed admirably throughout all of this seemingly chaotic (to the untrained eye) but well-planned-out scenario.
 "It seemed like there were about 30 to 40 people in the Procurement room. In addition to the various procurement teams, there were RNs, PAs, Surgical Techs, medical residents and other hospital staff all wanting to view the multiple organ procurement process for their own professional education as these events are somewhat rare when so many organs are donated at once," Amanda said. "The surgeons decided in the interest of safety to clear the room of most of the unnecessary staff as the room temperature can be affected by so many bodies in one room, and they also wanted to avoid any unnecessary noise from such a large group. These surgeons are the best."
Everything during a surgical procedure involving transplant teams must be carefully choreographed out of necessity for time. Donated organs are only viable for a short time, especially the heart and lungs. Transplant teams from other hospitals fly in by helicopter or fixed wing aircraft to procure an organ for a patient on their waiting list. The costs to procure an organ can run up to $10,000 or more. Because of the urgency, the risks and the costs can be high, but all do it because of the value of a life-saving operation.
In 1985, the first successful life-saving heart transplant in a Florida hospital was performed at Tampa General Hospital. Over 100,000 people in the US are currently waiting on a donor for an organ transplant. It is estimated up to 21 people die each day waiting on an organ donor match. The heart and lung must be transplanted within 4 to 6 hours, the liver and pancreas within 24 hours, and the kidneys up to 72 hours.
As Amanda worked in the Procurement room, Yanet was in the Transplant room, assisting two surgeons and surgical techs as they cut the aorta, pulmonary arteries, superior and inferior vena cava, and left atrium connector to remove the diseased heart. The lead surgeon handed the heart to Yanet, who then carefully placed it into a bucket to be removed from the room.
Just as they completed this task, the donor heart was delivered to the Transplant room and into the 'sterile field'. More experienced surgical technologists from the hospital's Transplant Team assisted the surgeons, with help from Yanet, in passing up to 60 Covidian Surgipro sutures that would be used to anastomose the connecting vessels to the implanted heart.
"Holding the diseased heart was an amazing experience," Janet said. "But seeing the fresh donor heart come in so fast after procurement, get connected to the major vessels, and then start beating on its own without any outside influence was incredible. It was like 'life' re-starting!"
A donor heart still has its own pacemaker, the SA (sinoatrial) node. It causes the atria (right atrium) to contract forcing blood into the right ventricle, then onward to the lungs to be oxygenated. As long as blood is nourishing the heart, it will continue to pump, even outside the body. In this case the donor heart was transplanted immediately after procurement and started beating again on its own.
"Of all the organs which may be transplanted, a heart transplant is by far the most profound – and that is because of everything the heart represents. We now know that the heart contains its own system of neurons, rivaling that of the brain," state Cardiac Electrophysiologist Dr. James Kneller.
Since South African Christiaan Barnard surprised the world when he performed the first human-to-human heart transplant on December 3, 1967, there are still only 140 centers in the USA for heart transplants with only 2,200 being done annually, and only 3,800 worldwide.
These outstanding students, Amanda Hill and Yanet Perera, from the Keiser University-Tampa Surgical Technology program led by Program Director Robert Young BS, MBA, CST and Clinical Instructor Doug Wsye BS, CST, continue to distinguish themselves in their advancement through clinical training.
"Never before have either myself or Mr. Wyse known or heard of a surgical technology student being allowed to participate in a heart transplant case during their clinical rotation. But Yanet had already distinguished herself in nine kidney transplant cases and Amanda has garnered consistent praise from highly experienced preceptors from week one," Young said. "It is a pleasure and very gratifying to see our Keiser students perform as these two have, plus others like Wendy Cruz, who has advanced so well in neurosurgery that her surgeon asked her to join his Neuro Team when she graduates."
"Keiser University-Tampa is very fortunate to be associated with and play a key role in helping Amanda, Yanet, and Wendy start their healthcare careers in surgery," he added.  "I believe this is the beginning of several very promising professional healthcare careers from these highly motivated and excellent students."
Seahawk Nation Video Highlights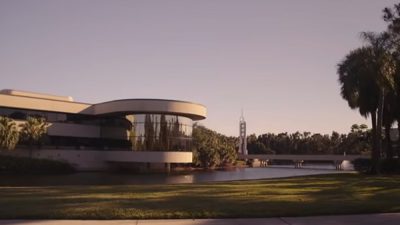 At Keiser University students always come first, our reputation was built in Florida. Keiser is a not-for-profit university with over 40 years of history, thousands of graduates on campus and online. Now, with a 100-acre residential campus, this can be your right fit. We are Keiser University!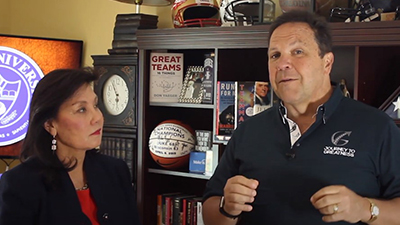 Keiser University is pleased to join forces with guest lecturer, and New York Times Bestselling author Don Yaeger, to offer The Greatness Leadership Initiative: Transforming the World in the Face of Change. This open, online course is available free of charge to all in the Keiser University community. Stay tuned for more information!
The Greatness Leadership Initiative: Transforming the World in the Face of Change