Keiser University Adds Fundraiser to Annual Scare Fairs across Florida to Aid Floridians Impacted by Hurricane Michael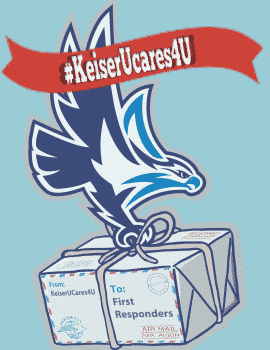 October 22, 2018
For Immediate Release
Keiser University
1500 N.W. 49th St., Fort Lauderdale, FL 33309
www.KeiserUniversity.edu
Contact: Dianne Anderson
[email protected]
(954) 801-6538
Fort Lauderdale, FL – Oct. 22, 2018 — Keiser University is committed to helping those impacted by Hurricane Michael. The University is launching "Keiser U Cares 4 U," a statewide fundraising effort, at its annual Scare Fair Open Houses on Wed., Oct. 24, 2018 from 5:00 p.m. until 8:00 p.m. at 16 of its Florida campuses.
"The Scare Fair events provide a great kickoff for our ongoing relief efforts because communities are already coming together on our campus for an evening of fun activities," said Belinda Keiser, Vice Chancellor for Community Relations and Student Advancement.
With campuses located throughout Florida, Keiser University students, staff, faculty and alums understand the devastation caused by a major storm and the long road to recovery afterward. Students attending classes and employees at many of Keiser's 21 campuses have family and friends hit hard by the recent hurricane in the state's panhandle.
Many Keiser University students and graduates work in the fields of health care, firefighting, law enforcement, and other 'first responder' roles that have a heart and responsibility to help those in need. Also, 20 percent of Keiser students are either veterans, active duty or have military family members who know the important part the military plays in response and recovery. The Keiser U Cares 4 U is a way for all campuses to combine their efforts to make a collective donation.
To provide help in areas where it is needed most, cash or check donations can be made to "Keiser University Charitable Account." Keiser University is a 501c3 nonprofit organization. Donations are tax deductible. Money collected will go to support the Florida Disaster Fund https://www.floridadisaster.org/. As the recovery efforts go forward, Keiser University campuses will continue to raise funds through various activities in the weeks and months to come. To find out what we have planned, please visit us on Facebook, Twitter or Instagram!
Each of the following campus locations will be open for their annual "Scare Fair," and will also have booths available for any who wish to make a monetary donation to the "Keiser U Cares 4 U" relief effort. For more information on the Scare Fair Open House events, call 1-888-844-8404 or visit www.KUOpenHouse.com.
Keiser University
16120 US Hwy 19 North
Clearwater, FL 33764
WFLZ 93.3 Hit Music Channel will provide entertaining with Mummy medical labs and a headless horseman scavenger hunt highlighting the frightfully fun activities. Guests can enjoy a spine-chilling elevator ride and "bloodcurdling" storytelling by Dr. V as they participate in a Hallows Eve costume contest and "trick or trunk" with local partners.
Questions? Call (727) 373-1380
Keiser University
1800 Business Park Blvd
Daytona Beach, FL 32114
WVYB-FM 103.3 The Vibe will set the tone for this "Spooktacular" event. Guests can enjoy scary fun in the haunted house and spooky theater, as well as an evening of games, prizes, entertainment, and refreshments.
Questions? Call (386) 274-5060
Keiser University
1500 NW 49th Street
Fort Lauderdale, FL 33309
Join WPOW 96.5 Power 96 as guests enjoy safe trick or treating, games and activities for both adults & kids, as well as movie viewing.
Questions? Call (954) 776-4456
Keiser University
9100 Forum Corporate Pkwy
Fort Myers, FL 33905
WBTT 105.5 The Beat will be on campus for the fall festival. Guests can share in a "trunk-or-treat", a costume contest, and an evening of games, prizes, entertainment and refreshments.
Questions? Call (239) 277-1336
Keiser University
6430 Southpoint Pkwy
Jacksonville, FL 32216
WKSL 97.9 Kiss FM sets the stage for a host of activities, including a haunted house and a walk through a haunted nursing lab, a Fortnite video game contest, and trick or treating around campus. Bring your own pumpkin and join in a jack-o-lantern contest. There will be complimentary food, games and crafts for all to enjoy. Check out the costume trunk, meet McGruff, the Crime Dog, and donate blood at the LifeSouth Blood Mobile.
Questions? Call (904) 296-3440
Keiser University
2400 Interstate Drive
Lakeland, FL 33805
WLLD Wild 94.1 will join the festivities which include a "trunk or treat", haunted house, a costume and a dance competition. Guests can also enjoy games, prizes, entertainment, and refreshments.
Questions? Call (863) 682-6020
.
Keiser University
900 S. Babcock Street
Melbourne, FL 32901
WKFS 95.1 My Kiss Radio will add to the fun as guests enjoy a bounce house, a spooky X-Ray simulation lab, Halloween culinary demonstrations, "Trunk-or-Treat", and hot dogs, chips, & drinks. Adults can get free blood sugar and cholesterol testing or take part in the OneBlood Blood Drive.
Questions? Call (321) 409-4800
Keiser University
2101 NW 117th Ave
Miami, FL 33172
WXDJ El Nuevo 106.7 will participate in the "Spooktacular" entertainment. Guests can enjoy a Haunted House, Fun & Interactive Labs, Trick or Treat stations, music & scary stories, as well as Halloween movies for kids and a Halloween photo station.
Questions? Call (305) 596-2226
Keiser University
6014 Hwy 19 North, Suite 250
New Port Richey, FL 34652
WQYK-FM 99.5 will join in the excitement. Guests can enjoy joining in "Trunk-or-Treat", games, music, and more while enjoying great food in a fun fall atmosphere.
Questions? Call (727) 484-3110
Keiser University – (5:00pm – 8:30pm)
5600 Lake Underhill Rd.
Orlando, FL 32807
WRUM-FM Rumba will be part of the fun that also includes "Trunk or Treat", a bounce house, face painting, balloon animals, and other family-friendly activities. Kids can enter the costume contest.
The Haunted House will open at 5:30 and admission is complimentary with a non-perishable food item.
Questions? Call (407) 273-5800
Keiser University
1640 SW 145th Ave.
Pembroke Pines, FL 33027
WZTU 94.9 will be on hand for the festivities. Guests can enjoy a haunted house as well as a hunted kids' corner, toss games challenge, scary video games, face painting, and kids' Halloween movies with popcorn.
Questions? Call (954) 431-4300
Keiser University
10330 South U.S. 1
Port Saint Lucie, FL 34952
WMBX 102.3 Beatz will be attending. Guests can enjoy a haunted house, face painting, a "Just Boo-tiful" photo booth, tricks & treats, and goodie bags for the kids.
Questions? Call (772) 398-9990
Keiser University
6151 Lake Osprey Drive
Sarasota, FL 34240
WCTQ 92.1 CTQ will provide music and entertainment, as guests enjoy a Haunted House, trick-or-treating, face painting, games and crafts for kids, and refreshments.
Questions? Call (941) 907-3900
Keiser University
1700 Halstead Blvd
Tallahassee, FL 32309
WWLD Blazin' 102.3 will be on hand for the excitement. Guests can enjoy haunted halls, a crime scene room, fortune telling, face painting and decorating Halloween cookies. The costume contest starts at 6:30 p.m.
Questions? Call (850) 906-9494
Keiser University
5002 West Waters Ave
Tampa, FL 33634
WRUB 106.5 Spanish Pop will be joining the "Spooktacular" festivities. Guests will enjoy trick or treating, a Zombie Laboratory, face painting, games, movies, and refreshments. Questions? Call (813) 885-4900
Keiser University
2085 Vista Parkway
West Palm Beach, FL 33411
WRLX MIA 92.1 will provide the music. Guests can enjoy ghostly activities and games, along with refreshments. There will also be a Financial Aid & Scholarship workshop.
Questions? Call (561) 471-6000
About Keiser University
Co-founded in 1977 by Chancellor Arthur Keiser, Ph.D., Keiser University is a private, not-for-profit University serving nearly 20,000 students offering more than 100 degrees at the doctoral through associate level on 21 Florida campuses, online and internationally, and employing 3,800 staff and faculty.
Keiser University is accredited by the Southern Association of Colleges and Schools Commission on Colleges to award certificates and degrees at the associate, baccalaureate, masters, specialist, and doctoral levels.
For additional information regarding Keiser University, visit www.keiseruniversity.edu.
# # #
Seahawk Nation Video Highlights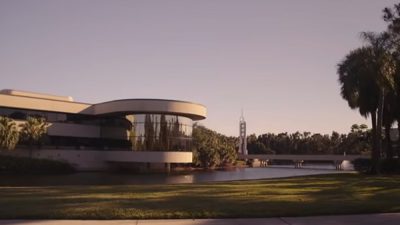 At Keiser University students always come first, our reputation was built in Florida. Keiser is a not-for-profit university with over 40 years of history, thousands of graduates on campus and online. Now, with a 100-acre residential campus, this can be your right fit. We are Keiser University!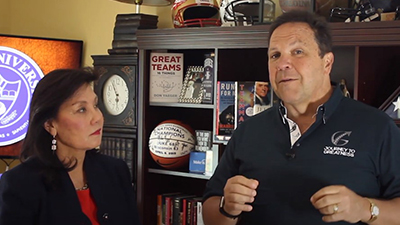 Keiser University is pleased to join forces with guest lecturer, and New York Times Bestselling author Don Yaeger, to offer The Greatness Leadership Initiative: Transforming the World in the Face of Change. This open, online course is available free of charge to all in the Keiser University community. Stay tuned for more information!
The Greatness Leadership Initiative: Transforming the World in the Face of Change