Keiser University's College of Chiropractic Medicine Welcomes Renowned Expert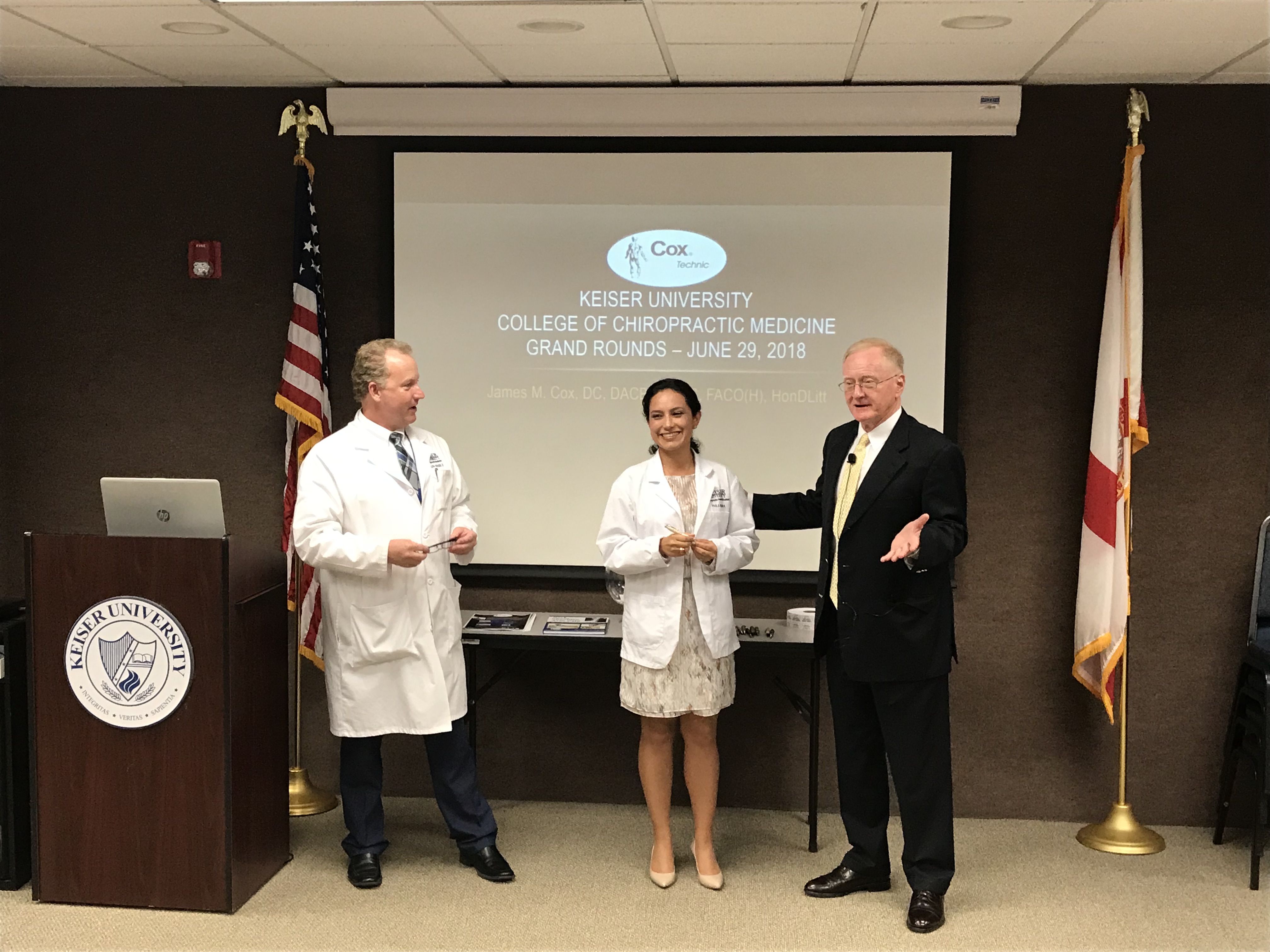 Keiser University's College of Chiropractic Medicine recently welcomed renowned expert Dr. James M. Cox to share insight with students and community members.
A respected lecturer on the biomechanics, diagnosis, examination and treatment of spine pain, Dr. Cox invented flexion-distraction manipulation (aka Cox® Technic Flexion-Distraction and Decompression Adjusting and Manipulation), the chiropractic adjusting technique used to treat lumbar disc protrusion, facet syndrome, sacroiliac aberrancy, scoliosis, spondylolisthesis, and fixation subluxation.
"We were honored to have the highly respected chiropractic innovator, researcher, author and clinician visit Keiser University's College of Chiropractic Medicine. Dr. Cox presented research and evidence-based clinical information to the students during chiropractic manipulation lab sessions and at Grand Rounds, a biweekly gathering of chiropractic students and faculty members in which a cases are discussed. His visit energized the students and precipitated the donation of substantial funds for the Cox research fund at Keiser," said Dr. Ralph Kruse, Assistant Professor.
Today, chiropractic, medical, statistical, biomechanical and clinical researchers continue to study the feasibility of flexion distraction for spine pain conditions like neck pain, back pain, leg pain and arm pain.
"We are very pleased and excited to welcome lecturers of this caliber to the program, and are thankful that our students will be gaining important hands-on learning experience as they become proficient in this specialized form of manual therapy thanks to this extraordinary technology in our clinical skills laboratory," said Dr. Mike Wiles, Keiser University College of Chiropractic Medicine Dean.
Thanks to a donation from Haven Technologies and Assistant Professor Dr. Ralph Kruse, students enjoy using the Cox 8 Force Table. The tool is the result of over 50-years of research and clinical use, and enables documentation of several variables on its built in computer control system. It provides additional research and analysis opportunities, while allowing mobilization in all spinal ranges of motion and providing full spinal application with evidence-based, published protocols.
The Doctor of Chiropractic program at Keiser University is a rigorous professional program consisting of ten semesters of study, which are completed over 40 months.  It combines traditional lectures with small group learning, weekly conferences and seminars, laboratory and experiential sessions, and clinical training opportunities at a number of sites.  All coursework includes case-based relevancy for chiropractic practice as a portal-of-entry profession dedicated to excellence in spine care. To learn more about Keiser University's College of Chiropractic Medicine, please visit: https://www.keiseruniversity.edu/doctor-chiropractic-dc
Seahawk Nation Video Highlights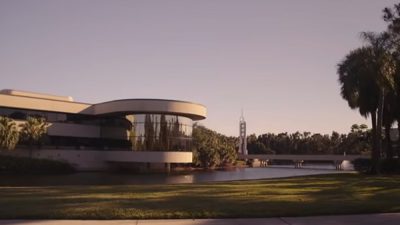 At Keiser University students always come first, our reputation was built in Florida. Keiser is a not-for-profit university with over 40 years of history, thousands of graduates on campus and online. Now, with a 100-acre residential campus, this can be your right fit. We are Keiser University!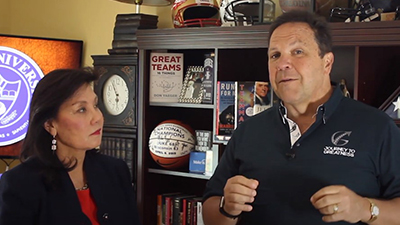 Keiser University is pleased to join forces with guest lecturer, and New York Times Bestselling author Don Yaeger, to offer The Greatness Leadership Initiative: Transforming the World in the Face of Change. This open, online course is available free of charge to all in the Keiser University community. Stay tuned for more information!
The Greatness Leadership Initiative: Transforming the World in the Face of Change