Tips for Academic Success: Keiser University Academic Dean Weighs In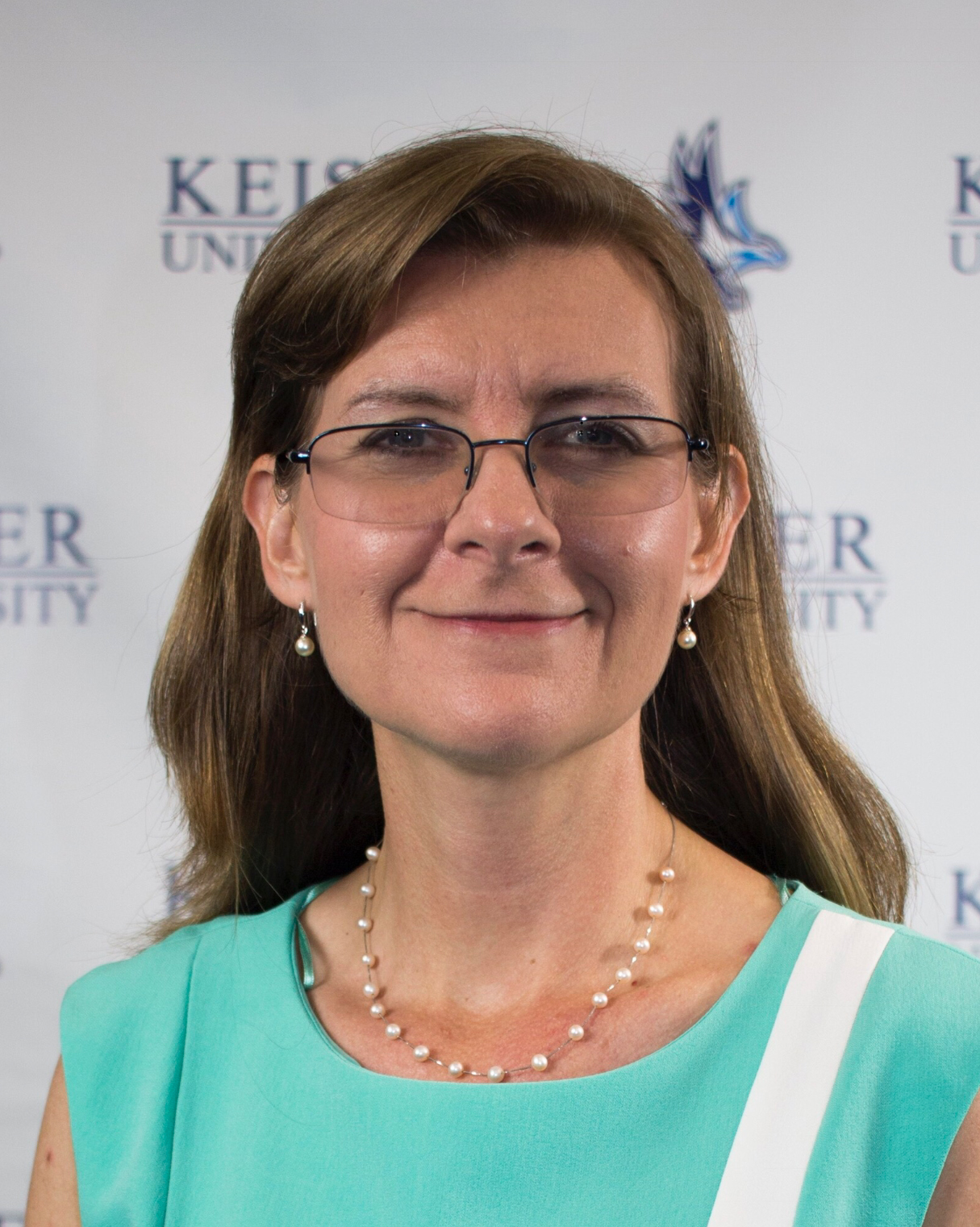 It's that time of year again! Thousands of students (and parents) are embarking on one the most rewarding adventures of their lives as college classes for traditional students begin. Here are some helpful tips offered by Keiser University Flagship Campus' Dean of Academic Affairs, Dr. Jennifer Peluso, to help students excel both inside and outside of the classroom.
 1. Be sure to choose a program of study (or major) that you enjoy. Envision what it is that you love doing the most and that makes you lose track of time… Some of the most successful professionals have found their greatest achievements in careers in which they can apply their inherent talents and abilities.
2. Connect early with your academic advisor and regularly monitor your progress.  Your academic advisor is trained to help you avoid unexpected academic, financial aid, and extracurricular snares. It is easy to get caught up in the busyness of the moment and just move from one task to the next, losing sight of the big picture. Take time each week to take a step back and reflect on your success. Create a plan to set goals and periodically review your success in reaching them. It often helps to find an "accountability partner" you can talk to and who can keep you on track toward your aspirations!
3. Have the courage to be imperfect with a growth mindset. No one expects you to know everything or to be a master of your craft. In fact, the purpose of being in college is to add to your knowledge, gain skills, build your professional networks, and enhance your competencies! So don't be afraid to ask questions both in and out of class (there really are no silly questions!). Attend your professors' office hours. Find a friend or fellow student to tutor you. Openness to seeking help, and reflection on what you don't know (yet), are two strong predictors of success in college! It is normal to find yourself feeling uncomfortable, anxious, or frustrated at times. Try not to let these feelings hijack your self-confidence or your belief in your potential. Most learning happens as an accumulation of small steps, tiny moments, and brief insights; the key is to look for them and connect them together.
4. Try new things. Your knowledge, beliefs, interests, and experiences from the past are your foundation when you start college. However, when we don't open ourselves up to new sources of information, critically evaluate our prior knowledge and assumptions, or add to our experience set, we limit our ability to generate new ideas or form new connections among older ones. This makes it difficult to apply what we learn to new situations, relationships, and subjects. Now is your time to explore subjects and experiences you've never jumped into before. Where you have room in your academic major, pick a course on a topic you have always wanted to learn about. When you have time outside of class, look for opportunities to volunteer in the community, attend a meeting for a new student organization, or participate in networking events advertised by local businesses or community-based organizations.
Remember you are not alone. There are so many people around you who care about you. If ever feel alone, overwhelmed, or uncertain about what to do in a situation, don't isolate yourself. Our faculty, staff, student leaders, and community partners are trained to provide you with encouragement, resources, and support. All you need to do is start a conversation by simply saying, "I'm having a challenge. Can you help?" Stay connected with your home base. While college life offers healthy independence, it's always important to stay grounded. Check in regularly with family members to help ease the transition for all of you.
Prioritize academic, athletic and social goals. Taking on too much too soon can derail academic success. Ensure that grades and extracurricular assignments are a priority, and everything else will follow. Organization is Key to Academic Success. "Yesterday's lazy makes today crazy!" Prepare for classes and extracurricular assignments well in advance and set-up reminders with helpful hand held devices, organizers and calendars.  Order your books weeks in advance to prevent costly delays.
Schedule your courses early and wisely and read your class syllabus in advance. Don't wait until the last minute to register for classes – know where your classes are located.  Do not leave the difficult courses until the end. In addition, if you are not a morning person, do not schedule classes at 8:00a.m. By reading the class syllabus, you will know what to expect and you will also learn what expectations your faculty member have.
Stock-up on healthy snacks. Worried about gaining the "Freshman Fifteen"? Stock-up on healthy snacks to fuel your mind during those midnight study sessions.
Take advantage of university learning resources and study abroad opportunities. Familiarize yourself with the many resources available to help you excel academically. These are available to you both in person and online.
Connect Early with your professors and with the Career Services Office. Your professors will be invaluable as you progress.  They will become your mentors and perhaps these connections could lead to an internship or possible job one day. Introduce yourself to the Career Services Office, and stay in touch to learn more about the many internship and employment opportunities that prepare both existing students and graduates for rewarding careers.
Become involved in student leadership roles. Studies confirm that students achieve much higher rates of retention and graduation and maintain better GPA's when they engage in student leadership positions.
Don't follow the crowd. College offers an opportunity to discover your passion and to create your own destiny.  When the crowd isn't following the road you'd like, create your own path. You may be amazed at the destination!
Make time for rest, exercise, fresh air and sleep.  As a student, you will be balancing courses, reading and perhaps a job.  Make sure you schedule time to sleep, exercise and get plenty of fresh air.
Set goals for yourself.  Start with small goals; for example: complete your reading assignments early, work toward obtaining a grade higher than your last grade.
Find a study buddy.  This will be helpful if you are sick and have to miss a class, if there is a topic in which you have difficulty, or if you just need company with studying.
Dr. Jennifer Peluso is the Dean of Academic Affairs for the Flagship Residential Campus at Keiser University. Her scholarly activity has focused on cognition and emotion, individual differences in adult attachment, student success, individual/relationship resilience, and the value of teaching. She has served in several organizational roles throughout her career working on curriculum assessment and improvement, regional accreditation, student success, and professional development programs on teaching, learning, and community engagement. Dr. Peluso currently serves on the Board of Directors for Be Strong Global, a nonprofit organization designed to stop the effects of bullying among school children through resilience programming. She is also a founding member of Achieve Palm Beach County, a local college access network designed to increase access to and completion of postsecondary training for students in Palm Beach County, Florida. She enjoys working across organizational boundaries both within institutions and across businesses and community-based organizations on creative collaborations toward collective impact.
Dr. Peluso earned a Bachelor of Arts degree in Psychology from Skidmore College, Saratoga Springs, New York; and Master of Arts and Ph.D. degrees in Psychology (Cognition and Development) from Emory University in Atlanta, Georgia. She resides in Boynton Beach, Florida with her husband and two daughters. The Peluso's enjoy cooking, traveling, laughing, and binge-watching science and science fiction programs together.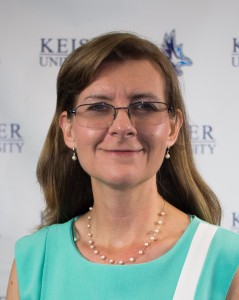 Seahawk Nation Video Highlights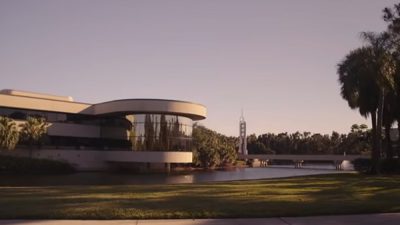 At Keiser University students always come first, our reputation was built in Florida. Keiser is a not-for-profit university with over 40 years of history, thousands of graduates on campus and online. Now, with a 100-acre residential campus, this can be your right fit. We are Keiser University!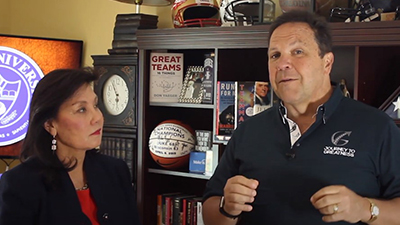 Keiser University is pleased to join forces with guest lecturer, and New York Times Bestselling author Don Yaeger, to offer The Greatness Leadership Initiative: Transforming the World in the Face of Change. This open, online course is available free of charge to all in the Keiser University community. Stay tuned for more information!
The Greatness Leadership Initiative: Transforming the World in the Face of Change