Inspired by Family Members to Combat Chronic Pain, Keiser University Valedictorian Looks Forward to Pursuing Medical Degree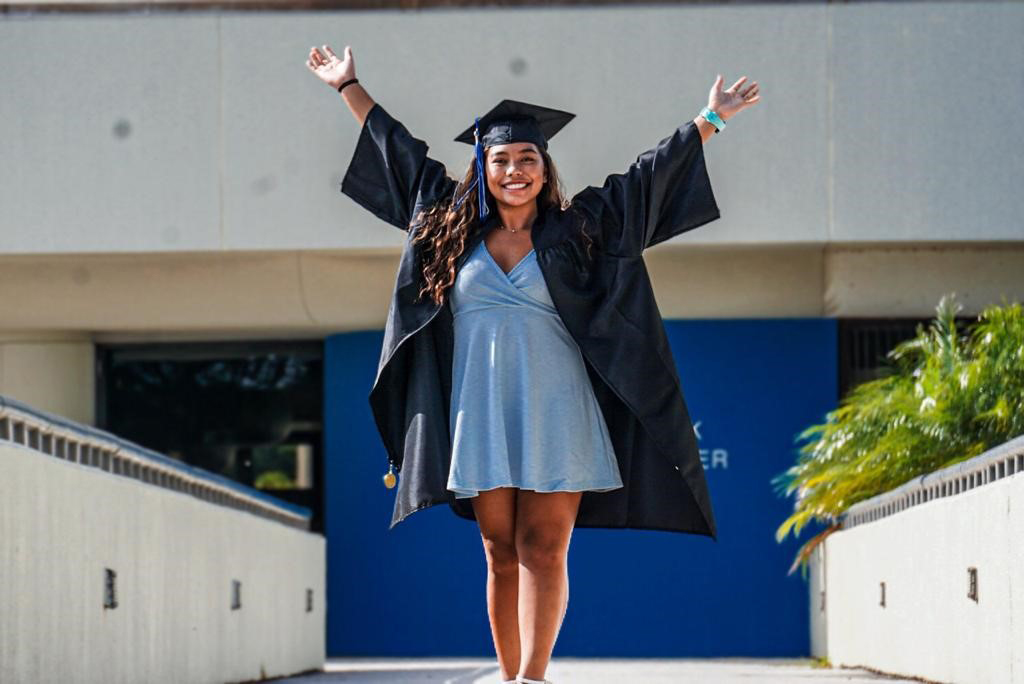 Keiser University valedictorian Samantha Lopez Cruz was instilled with an early desire to alleviate chronic pain, and as a Biomedical Science scholar is thrilled to embark on the next steps of her educational journey as she works toward her sports physical therapy certification and joins the University of Texas Medical Branch's Doctorate in Physical Therapy program in the fall.  
"I've always known that I wanted to work within the healthcare field because of my love for helping others and my interest in the sciences and ended up choosing physical therapy because of the chronic pain that occurs within my family," reflected Lopez Cruz, a West Palm Beach, Florida Flagship Campus international student who'd watched as loved one's struggled with back and neck soreness, degenerative disc disease, joint tenderness, and mobility issues.
It was in 2019 that the vision to prepare for a career in the healthcare field while also playing college volleyball led Lopez Cruz to the United States. Born in Tamuning, Guam, she'd already enjoyed a fair dose of international travel while residing in Hong Kong, Singapore and Dubai, thanks to her mother's position as vice president in the beauty sales industry.   
Lopez Cruz shared that although she had visited family in New Mexico every year, living in the United States for the first time was a bit of an adjustment, which made the support of her fellow students and Keiser University leaders very special. 
"I liked the small student-teacher ratio, so was able to meet with my professors frequently," said Lopez Cruz who added that she has also enjoyed the camaraderie shared by students and paid tribute to Biomedical Science Program Director Shawn McPartland for his ongoing assistance and encouragement as she applied to doctoral programs. "He wrote me a letter of recommendation and conducted mock interviews to make sure I was prepared for everything. Honestly, Dr. McPartland was there since day one, and I am so grateful for all his help and support," said Lopez Cruz who also took advantage of industry shadowing opportunities. 
"Samantha's work ethic and positive outlook have inspired many at our Keiser University Flagship Campus," said McPartland. "Having completed her degree requirements in only three years, she earned valedictory honors with a perfect grade point average in a very challenging field of study.  Additionally, she was a scholarship athlete on the KU volleyball team."
With a heart for healing, Lopez Cruz is keenly aware of the indispensable role of healthcare providers and is more motivated than ever to roll up her sleeves to join them.
"Nurses, doctors, all healthcare professionals are having to work on overdrive because they are in high demand right now. They are having to constantly make sure that everyone in the community is at their best. I hope COVID-19 has made people more appreciative of healthcare professionals as we wouldn't have been able to survive without them. More physical therapists are needed as well because the baby boomers are the next aging generation. They are also one of the biggest generations, so that means more and more people are in need of physical therapy," she said.
And although very proud of her distinction as valedictorian, family members are not surprised. "They know that I'm the type of person to work hard and never give up. Once I have my mind on something, I will do anything and everything to achieve that goal," smiled Lopez Cruz who added, "Overall, there has been so much love and support ever since my mom made the announcement. My family congratulated me and of course treated me to a meal, as that's how we always celebrate," she said of her grandmother's delectable dishes. "It's hard just to choose one dish but I love chicken adobo, pancit, lumpia, red rice, and finadene."
When asked to share details of the roadmap that helped jumpstart her dreams, Lopez Cruz said she highly recommends calculated leaps of faith. "I feel like a lot of people struggle with what their first steps should be and know that taking that initial step can be the scariest, but you won't know what the outcome will be until you actually try. This is why I find it important to always do your research, it helps you understand things. Also, don't be afraid to ask questions. If you know an adult, mentor, professor, or anyone that can guide you through the whole process, definitely reach out to them."
Keiser University's Bachelor of Science degree in Biomedical Science prepares students for entry into health sciences and analytical/research laboratories. Graduates possess the skills to perform in a variety of science-related positions in health departments, zoos, clinical and environmental chemistry, pharmaceutics, and laboratories.  Graduates of the program will have completed the prerequisites necessary to be successful in graduate programs in the sciences as well as a multitude of professional programs.
Keiser University is a private, independent, non-profit university serving nearly 20,000 students at 21 Florida campuses, online, and two international sites. Co-founded in 1977 by Chancellor Arthur Keiser, Ph.D., and Evelyn Keiser, Keiser University currently offers more than 100 degrees from associates to the doctoral level. Keiser University is a designated Hispanic-Serving Institution, a member of the Hispanic Association of Colleges and Universities and was ranked No. 5 in the U.S. in Social Mobility by U.S. News and World Report in 2022.
Seahawk Nation Video Highlights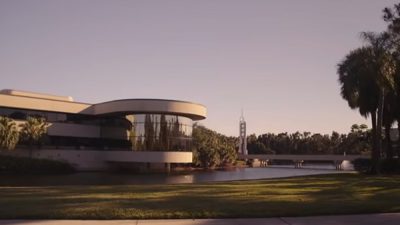 At Keiser University students always come first, our reputation was built in Florida. Keiser is a not-for-profit university with over 40 years of history, thousands of graduates on campus and online. Now, with a 100-acre residential campus, this can be your right fit. We are Keiser University!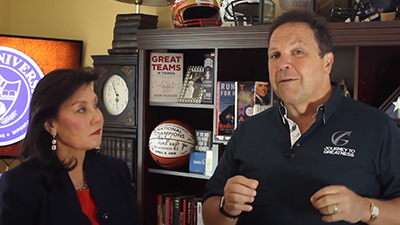 Keiser University is pleased to join forces with guest lecturer, and New York Times Bestselling author Don Yaeger, to offer The Greatness Leadership Initiative: Transforming the World in the Face of Change. This open, online course is available free of charge to all in the Keiser University community. Stay tuned for more information!
The Greatness Leadership Initiative: Transforming the World in the Face of Change